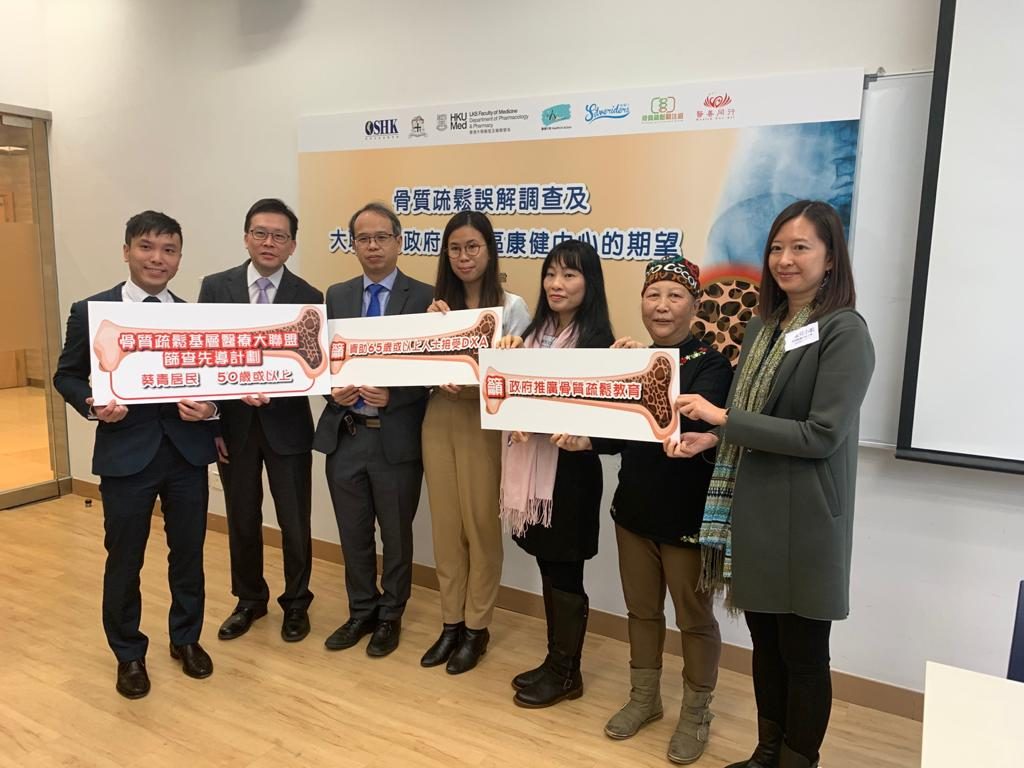 In Hong Kong, about 40% of elders aged 65 and above have osteoporosis – a disease that could cause multiple bone fractures and in turn lead to reduced mobility. A survey showed that more than 30% of female respondents mistakenly believed that one was osteoporotic only if he/she was hunchbacked. They were also ignorant of the fact that some commonly used drugs may increase the risk of osteoporosis. Such misconceptions, coupled with insufficient resources in the public healthcare system, have made early diagnosis of osteoporosis difficult. The resulted osteoporotic fractures thus aggregate the medical burden of the society.
With the aim of advocating for policymaking to reduce the number of osteoporotic fracture patients, a group of healthcare professionals, non-governmental organisations and social enterprises that are concerned with osteoporosis in Hong Kong joined hands to establish a cross-disciplinary alliance, namely, the Osteoporosis Primary Care Task Force (OPCTF), including a research team from the University of Hong Kong which developed a new risk screening method tailor-made for people in Hong Kong. OPCTF is looking to demonstrate the effectiveness of screening through a series of activities and pilot programmes. OPCTF also calls on the authorities to allocate more resources in a timely manner, so as to help reduce the cases of fragility fractures.
The Osteoporosis Concern Group conducted a survey in March this year to understand how well women in Hong Kong know about osteoporosis. Among the 606 female respondents aged 35 and above, 24% agreed with the statement that "one is osteoporotic only if he/she has bone pain", while 32% agreed that "one is osteoporotic only if he/she is hunchbacked".
Moreover, 46% of the respondents did not know or disagreed that some commonly used drugs for diabetes or rheumatoid arthritis could increase the risk of osteoporosis. Even worse, nearly 80% of them wrongly believed that taking calcium tablets or vitamin D supplements was the right way to treat osteoporosis.
Ms. Amy Wong, President of the Osteoporosis Concern Group and a registered social worker, said that the findings reflected misunderstandings about osteoporosis among women in Hong Kong. "Failure to receive prompt treatment will make you highly prone to fractures," she said.
One is already suffering from a lumbar spine fracture if a hunchback is observed. According to Dr. Wong Sze-hung, President of the Osteoporosis Society of Hong Kong, the appearance of a hunchback implies one is already suffering from lumbar spine fracture, where the vertebra may collapse and press on the spinal cord, causing back pain. This symptom implies the bone density is low and thus one is highly prone to a secondary fracture in near term, can lead to serious consequences.
He also explained that people lose bone density as they age. This causes bones to become brittle and more prone to fractures, which means, even a fall from standing height or less can result in a fracture, i.e., an osteoporotic or fragility fracture.
In 2018, there were 9,590 cases of hip fractures in Hong Kong, study showed that 23% of patients suffered from hip fracture were admitted to Homes for the Ages. Among fracture patients, 70% lost their mobility and 17.3% died within one year following the fracture. The majority of the hip fracture cases were linked to osteoporosis. Over the next decade, the number of cases of hip fractures per year in Hong Kong is projected to rise by a staggering 53% to nearly 15,000.
Taking calcium tablets doesn't help much in treating osteoporosis
In response to the misconception that "taking calcium tablets alone is effective in treating osteoporosis", Prof. William Chui Chun-ming, President of the Society of Hospital Pharmacists of Hong Kong, cited a study that investigated the association between dietary calcium intake and bone loss in osteopenic postmenopausal women in New Zealand. The women's calcium intake was 469 mg or 1,361 mg per day in average. The study found that there was no difference in terms of loss of bone mass among the 2 groups of women over a six-year period. It is thus clear that increasing calcium intake is not of much help in treating osteoporosis among postmenopausal women.
In addition, some commonly used drugs for diabetes, rheumatoid arthritis and stomach- ache may increase the risk of osteoporosis as they can reduce bone formation or intestinal calcium absorption.
Osteoporosis screening in Hong Kong is unbelievably inefficient
An accurate diagnosis and a holistic treatment plan can help tremendously in minimising the burden of osteoporosis. Currently, dual-energy X-ray absorptiometry (DXA) scan, which usually focuses on evaluating the lumbar spine and/or the femoral neck, is the most medically endorsed examination method for osteoporosis. The scan, combined with medicines, a balanced diet and regular exercise, can help lower the risk of fractures.
However, Dr. Wong noted that among the 11,397 osteoporotic fracture patients in Hong Kong between 2012 and 2014, only 3.5% received a DXA scan within one year following their fractures. The wait for one in a public hospital to receive the scan can be as long as
7.5 years, indicating that available resource for osteoporosis screening in Hong Kong is lagging far behind the demand.
The risk of a secondary fracture is high in the first 2 years after the initial fracture
A retrospective analysis of fracture patients aged 50 and above at the major public hospitals in Hong Kong was published in the Archives of Osteoporosis in October 2019. According to the analysis, between 2004 and 2018, 49.5% of the patients with a secondary fracture occurred within 2 years since the initial fragility fracture. The study also referred that window of opportunity in the first 2 yearsis a golder period to treat osteoporosis and prevent falls.
HKU: quick screening with three simple questions
Dr. Cheung Ching-lung, Associate Professor in the Department of Pharmacology and Pharmacy of the Li Ka Shing Faculty of Medicine at HKU, pointed out that the direct cost of treating fractures in public hospitals is as high as HKD1.5 billion per year and the cost is expected to keep rising. Performing DXA scans on the high-risk individuals identified by screening would be cost-effective and helpful in reducing the number of osteoporotic fracture patients.
After analysing data derived from thousands of local cases, the research team from the Department of Pharmacology and Pharmacy of the Li Ka Shing Faculty of Medicine at
HKU enhanced the widely adopted "Osteoporosis Self-assessment Tool for Asians" (OSTA) and came up with an osteoporosis risk screening method specifically for people in Hong Kong. One can find out his/her risk of developing osteoporosis by answering just three questions: age, weight and history of non-traumatic fracture.
Osteoporosis screening could help save HK$900 million in healthcare spending
OPCTF has launched a Kwai Tsing District-specific pilot programme on primary care for osteoporosis, which aims at enhancing the public's knowledge of osteoporosis prevention and self-management skills, as well as improving treatment rates and performing case follow-up. The pilot programme will organise health talks regularly and adopt the three- question assessment designed by HKU for quick screening. Follow-up care will be provided if necessary while high-risk participants will receive full funding for DXA scans.
According to Ms. Emily Liu, a registered nurse at Health in Action, it is estimated that the number of cases of fragility fractures in Hong Kong could be reduced by 10% each year if subsidised osteoporosis screening were offered by the government to the elderly within three years. By 2030, the number of cases of hip fractures per year would be lowered by approximately 9,000, saving nearly HK$900 million in related healthcare spending.
OPCTF calls on the inclusion of osteoporosis screening and preventive education as regular services of the District Health Centres
OPCTF urges the government to allocate more resources on health education on osteoporosis and fracture prevention. It also call on the government to include osteoporosis screening into the regular services of the District Health Centres, and to support DXA scan for people aged 65 or above.
Effective osteoporosis prevention could be achieved through community-based collaboration between the healthcare and social service sectors. One example is to integrate community empowerment activities and caregiver support services into the primary care services of District Health Centres. OPCTF will also design health-promotion and physical activities corresponding to different risk groups so as to implement community-based health activities, fall prevention measures and case management in a cross-disciplinary manner.
OPCTF counts on more people to participate in the pilot programme which not only helps people to identify themselves for early diagnosis and treatment, but also provides valuable data to demonstrate the benefits of screening to the society. OPCTF will analysize the data after 1 year and present the finding to the government, with an aim to urge the government to allocate sufficient resources the soonest to reduce fragility fracture in Hong Kong.
A health talk about osteoporotic fractures is coming up this weekend
OPCTF will hold a public lecture on 14 December at the Kwai Shing Community Hall. Dr. Wong Sze-hung and Dr. Lam Chor-yin from the Osteoporosis Society of Hong Kong, Prof. Cheung Ching-lung, Associate Professor in the Department of Pharmacology and Pharmacy of the Li Ka Shing Faculty of Medicine at HKU and Prof. William Chui Chun-ming, President of the Society of Hospital Pharmacists of Hong Kong will be the main speakers, while Ms. Helena LAW Lan, renowned artist, will attend to share tips for healthy bones. All quota being filled up as of today. OPCTF will organize a series of complimentary osteoporosis screening and community health talk in the future, details will be announced at Facebook page of Health in Action https://www.facebook.com/HIAHK/